Working up the Courage to Take my First Solo Trip
Working up the Courage to take my First Solo Trip
How does one get comfortable and unafraid by the thought of traveling to a foreign country alone?  This was one of my many thoughts spinning around in my head when I decided to book a spontaneous, last minute trip to Tokyo by myself.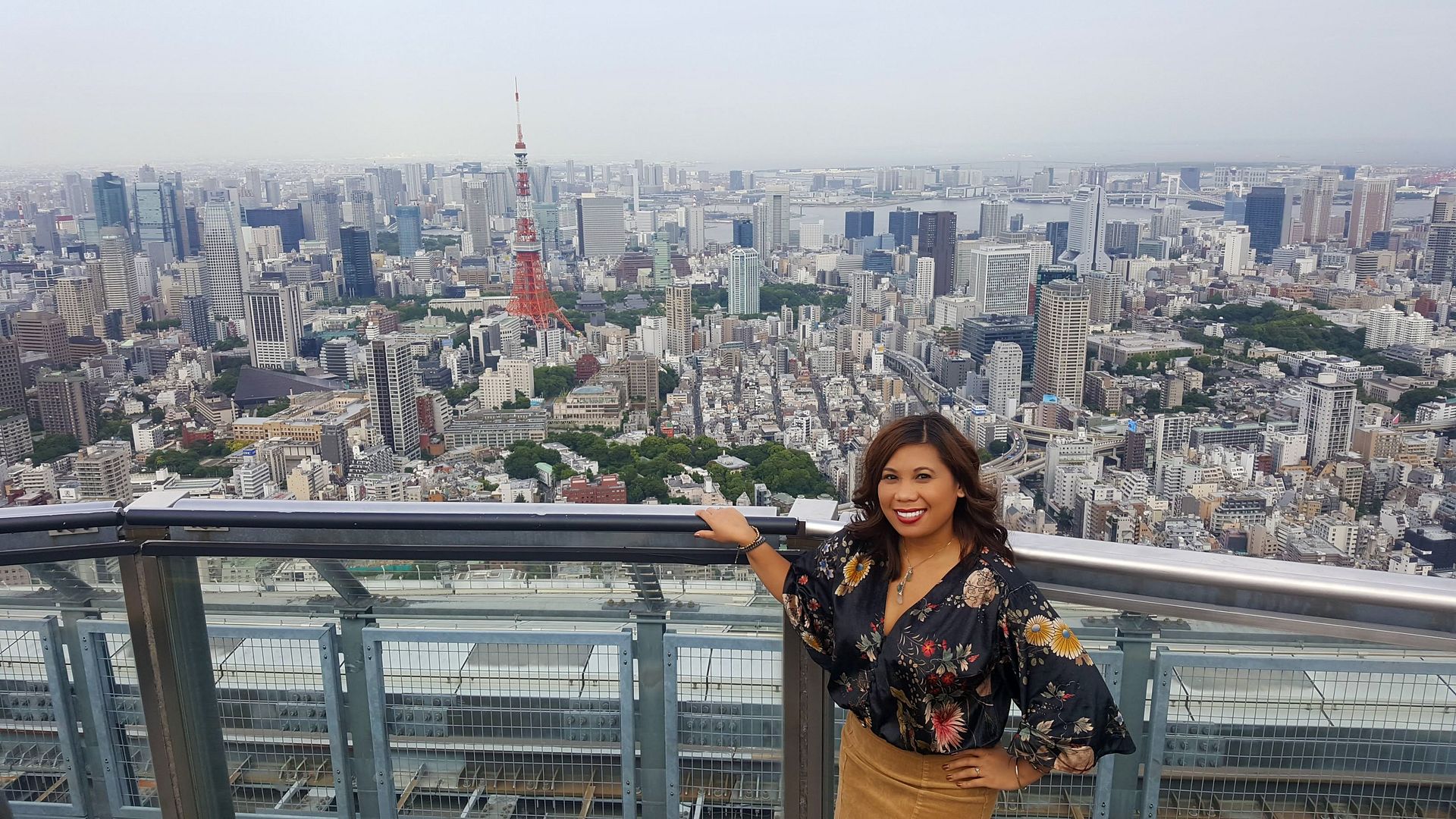 This all started when I was planning to go to the Bottlerock Music Festival in Napa last year with a couple friends.  We had talked about it for a few months and then the plans fell apart.  First one friend cancelled and then a few days later the second friend cancelled.  This was already a week before the festival.  At first I was really upset.  Mainly because I had already gotten the days off from work and I had been trying to go to the festival for a few years now.  As most people would agree, being cancelled on when you've already been planning a trip sucks.  My boyfriend had to work that weekend and couldn't go with me.  Other friends that I asked if they could go either didn't have the funds or weren't too excited about the lineup or just didn't want to go.  I decided that I wasn't going to waste my off days by deciding to just work or stay at home.  So I thought about Nomadic Matt, one of the travel bloggers I follow who said in an article, "If I wait for others, I'll never go anywhere."  I decided I was going to take his advice and finally embark on my very first solo trip to a country I've been wanting to go for years now.
Japan. What's not intriguing about this country?  From their hello kitty obsession to kawaii lifestyle, Harajuku district, endless sushi bars, and scenes from the film, Memoirs of a Geisha.  I've long been dreaming of going to this country and trying an authentic bowl of ramen and watching the colorful and eccentric people who dress up on the streets in the Harajuku neighborhood of Tokyo.  Now that I had the destination picked out, it was time to figure out if I could do a hostel stay for five days.  I had stayed in hostels before in Thailand with a friend, but this was my first time traveling and staying in a hostel alone.  This might sound ridiculous to some people seeing as I am a flight attendant and I'm constantly traveling alone.  I find it very different though when you are traveling for work and your hotel stay and transportation is already set up with your company.  Also, I am never in a hotel by myself with my job since I am traveling with a crew.
First things first.  I booked my non-revenue flight with United since I work for them and can fly standby.  I then checked out a few travel bloggers' articles on their Tokyo trips.  I looked for their hostel, hotel, and Airbnb recommendations.  I then looked on hostelworld.com.  I found the perfect hostel in Tokyo, only 36 U.S. dollars a night, all female dorm room, and close to a subway station.  Perfect!  I made my first hostel booking.  I decided on a hostel so I could meet other travelers instead of being in my own room in a hotel or Airbnb where it would be difficult to meet other fellow solo travelers.  I then decided to make a bucket list of a few things I wanted to do there and then left some room in my itinerary to decide whatever I wanted to do once I was there.
I reached out to an old high school classmate of mine who is actually teaching English in Japan.  He gave me some tips on where to go in Tokyo and some places outside of the city.  I then searched once again through my favorite travel bloggers' articles on Tokyo and the last thing I always do when I'm looking for things to do in a specific city.  I checked the Tokyo hashtag on Instagram.  I find that I get a lot of tips on where to eat and even some less touristy places where to visit when I look on Instagram.  I had a list made and I was all packed and ready to go.  Because I was flying standby and I was going to be taking a lot of subways and trains for transportation, I decided to only take a backpack and a purse.  The backpack I have is an Osprey Porter 46 pack and it's more than enough for a week or even month's stay.  I couldn't wait to finally explore this country I have been dying to visit for years!
The day finally arrived and I was nervous, excited, anxious, and also grateful for the free flight there.  Thanks United!  When I had boarded my flight I was so excited and shocked to see that one of my flight attendant friends was there working my flight!  I excitedly told her this was my first solo trip.  She was so pumped up for me and then asked if I wanted to check out Tokyo Disneyland and of course I couldn't say no!  Sometimes you have to go with the flow and forget your itinerary.  By the time we landed, we only had time to have dinner and do a half day at Tokyo Disney.  I had an amazing time seeing Disneyland in a whole new way!  It was my first time being at a Disney theme park out of the country and it was like being at a smaller Disneyland.  It wasn't that crowded and the longest I had to wait to go on a ride was 20 minutes.  That may also be due to the fact we got there late in the day and it was a weekday.   I also found out that this is the first Disney theme park to be opened up outside of the U.S.  It is smaller, but they have a lot of rides split between the two parks, Tokyo Disneyland and Tokyo DisneySea that are not at the Disneyland in California.  For example, the bumper cars like ride over water that felt like a car attached to the top of a float.  That ride was my favorite.  After spending the whole night running around the theme park with my flight attendant friend trying to go on as many rides as possible before the park closed, it was time to call it a night.  I had to check into my hostel and prepare for the next few days of checking off as many of my bucket list items as I could and taking in as much of the city as I can.
My bucket list for this busy city consisted of many animal cafes and restaurants I wanted to check out as well as temples and rooftop venues with a view of the city.  I devoured as much sushi and ramen as humanly possible and even came across a hidden hole in the wall restaurant in the basement of a building in Shinjuku. This was not on my bucket list, but I was intrigued when I saw a bunch of people heading towards the back staircase of a building that didn't look like there was much inside.  I followed them and saw even more people waiting in the stairwell.  After waiting about half an hour, I experienced the most tender pork and chicken katsu and flavorful rice that I've ever had in my entire life.  The rice tasted like it was made with seaweed and soy sauce and I could have devoured that alone by itself.  The katsu was so delicate that each bite I took, I was sad because I knew my meal was almost over.  I had a list of cafes and restaurants I wanted to check out in Shinjuku, but nothing compares to that perfect meal I happened to stumble upon my first solo night in Tokyo.  The animal cafes were next.
I spent the next few days checking out cat cafes, hedgehog cafes, rabbit cafes, you name the cute animal, and they had a café for it.  I couldn't believe it.  It was like going for tea tasting in a café and in front of you there are hedgehogs and next to you, there's a baby fox.  I felt like this is what a real life Disney princess's life is like.  I was worried leading up to this trip that I was going to feel so alone and lonely, but it was exactly the complete opposite!  I had never felt so empowered deciding on what I was going to do the whole day, where I was going to eat, and exactly how much time I wanted to spend petting cats in a café.  I had all the freedom in the world deciding where I was going to go and how I was going to spend my trip.  I instantly felt the rush of happiness as I was drinking my green tea while 10 cats surrounded me.  This place was magical.  I even got to see a Harajuku show of girls dancing in crazy, wild outfits, hot pink, green, and blue hair with neon colored tights and glittery discotheque shiny outfits on a revolving lit up pink cake with frosting, unicorns, and a banana.  It was what I would imagine Studio 54 was like if it was in Tokyo.  It was the weirdest, wildest performance I've ever seen while eating neon colored spaghetti and a milkshake filled with rainbow colored frosting and red lips made of fondant icing.  I went from going to a huge Buddhist temple in Asakusa and watching thousands of Buddhists pray and light candles to wandering around the roads of Harajuku and taking pictures with the most colorful Harajuku girls that looked like they belonged in a Gwen Stefani music video.  I was convinced Tokyo was the most conservative, traditional as well as on the opposite end of the spectrum, the most over the top, colorful and dizzying place I've ever been to. 
To say that this solo trip was amazing, gives my experience no justice.  This solo trip was inspiring, fascinating, confusing, sushi filling, and can only be described as seeing all colors of the rainbow in one outfit.  If I could change one thing about this trip, it would be to have stayed longer.  I feel more confident now in navigating public transportation and booking future solo trips to other countries I've been dying to go to.  I've learned to rely on myself and trust my instincts.  If you're debating on setting out on your first solo trip, do it!  I cannot believe I waited this long to go to this captivating and rainbow colored city.  As one of my favorite travel bloggers Nomadic Matt says, "If I wait for others, I'll never go anywhere."
Hostel: Unplan Kagurazaka
Temple: Senso-ji (Tokyo's oldest temple and one of the most significant)
Shopping/Local Market: Nakamise Shopping Street (in front of main gate of Senso-ji Temple)
Rooftop views of Tokyo:
Tokyo City View Observation Deck in Roppongi Hills (view of the Tokyo skyline)
Mag's Park at Magnet (rooftop of a mall that overlooks the famous Shibuya Crossing)
Restaurants:
Gyukatsu Motomura Shinjuku (hole in the wall, basement restaurant)
Kawaii Monster Café (Harajuku girls dance show and lunch/dinner)
Uobei Shibuya Dogenzaka (conveyor belt sushi)
Dessert: Milk (Café and creamy ice cream with boba and pudding)
Animal Cafes:
Hedgehog Café & Pet Store Harry
Cat Café Mocha Harajuku Takeshita Dori